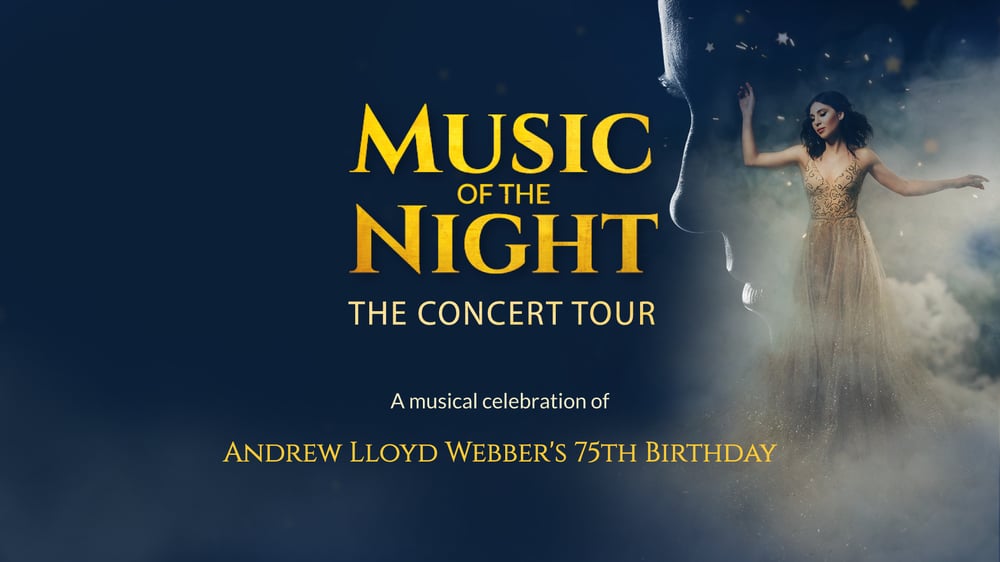 Celebrating
Andrew Lloyd Webber's
75th Birthday
---

This concert celebration of
Andrew Lloyd Webber's 75th Birthday
and his acclaim as the most successful musical theatre composer of all time will feature his most iconic theatrical music!

Including selections from:
Phantom of the Opera, Evita, Cats, Jesus Christ Superstar, Sunset Blvd, and more!

With a fully professional cast and a live band, many of whom have performed throughout Canada, London's West End, and Australia, we are sure this parade of musical offerings will overwhelm the musical senses.


Alberta Audiences are
LOVING THIS SHOW!

"I was part of the sold out Show in Red Deer last nite Sat Sep 23rd. This is a FANTASTIC show for Andrew Lloyd Webber Fans or music fans in general. The singers are excellent with beautiful powerful voices and the musicians are terrific as well. The whole production was great. I would go to this show again in a heartbeat 💓 Congratulations 👏🏻👏🏻👏🏻 on an opening show. 🥳"
Wally Sheardown from Red Deer, AB

"Wow what a great show the timing was perfect the song choices superb, the musician and singers gave us a performance that ALWebber would have not only approved of but applauded. Well done." Patricia Hutchinson from Red Deer, AB

Coming this Fall ('23) to

Alberta
Saskatchewan
Manitoba
and Northern BC
(see dates and locations below
listed by Province)


ALBERTA
Our commitment to our
Indigenous Communities

In response to the call-to-action from the Truth and Reconciliation Commission of Canada (linked below), we are offering modest discounted rates to the Indigenous community as a small gesture.

We as a nation have some healing to do, and this is a simple way to encourage more unity and inclusion into our musical theatre and live theatre community.

Our organization is called Sound the Alarm, not to politicize, but to generate awareness and conversation. More healing is required in this country - to move away from resentment and begin to understand the damage that was done to generations through the tax paid/govt funded residential school program and the coupled cultural genocide.
We as tax-payers and voters need to atone for that in some way.

Truth and Reconciliation Commission
Calls to Action:
"Wow what a great show the timing was perfect the song choices superb, the musician and singers gave us a performance that ALWebber would have not only approved of but applauded. Well done."
Patricia Hutchinson from
Red Deer, AB
"I was part of the sold out Show in Red Deer last nite Sat Sep 23rd. This is a FANTASTIC show for Andrew Lloyd Webber Fans or music fans in general. The singers are excellent with beautiful powerful voices and the musicians are terrific as well. The whole production was great. I would go to this show again in a heartbeat 💓 Congratulations 👏🏻👏🏻👏🏻 on an opening show. 🥳"
Wally Sheardown from
Red Deer, AB
"WOW!!! Just saw this Opening night in Red Deer!!! It's fabulous!!!! 😊👏👏👏👏👏👏👍👍👍👍"
Karen Ninkovich from
Red Deer, AB
"There many moments which are worth the price of admission on their own. These are stellar singers with a very talented band to back them up. Get your tickets now!!!"
Donald Hastie from
Woodstock ON

"I saw the show last night in St. Catharines. It was amazing!! Great performances by all. Standing ovation. Bravo!! 🙌"
Dan McKnight from
St Catharines, ON

"The show was fantastic! If you are seeing it in another city, you are in for a real treat when you see it. The talent is completely fabulous! The whole cast is so talented bringing this music to life."
Anne F from
Victoria, BC
"Highly recommend this show! Incredible talent. Good mix of songs, representing the best of the best."
Elaine Jennings from
Guelph, ON

"I was at the Cultural Centre in Chilliwack last night. I LOVED the show."
Jill Robertson, from
Chilliwack, BC
"Saw this concert in Abbotsford on Sunday....it was amazing ! All the artists were so great ..the lighting effects were super and ..of course...the music ! It was well paced and would have loved it to go on for another 2 hours."
Lee Hopwood from
Abbotsford, BC

Artistic Team:
(subject to change)
Creative Director & Producer: Alan Corbishley
Music Director: Frederik Robert
Lighting Design: John Webber

Band:
(subject to change)
Keyboards: Evan Berndt & Angus Kellett (Arielle Balance)
Bass/Guitars: Cole Friesen
Drums: Dean McKey

This is a concert production and therefore is not a narrative based
theatrical production.

---
The Cast
Meet the Fall 2023 Cast.
Cast is subject to change.
Amy
Gartner
Mezzo

Sept 26, 27, 29
---
International:
Various productions on
Royal Caribbean Cruise Lines

Canada:
Do It Anyways, Side By Side By Sondheim, Merrily We Roll Along, Maud, Crunchy, Draining the Swamp, Come Along and Listen, The Who's Tommy, Hair.

As music director:
Once on This Island, Pageant

Follow: @amygermainegartner
Georgia
Bennett
Mezzo

Sept 23, 24, 30 - Oct 25
---
Canada:
Ghost: the Musical, Little Women, Classic Country Roads, Dogfight, Storybook Search, Les Miserables, Footloose, Senza Luce, Back to B4: A Bingo Bonanza, Rumspringa Break: An Am-ish Musical

Follow: @lolbenzz
Soprano
---
NY/USA:
Juilliard School graduate, Marriage of Figaro, The Elixir of Love, Cosi Fan Tutte, Showboat, Candide, Fiddler on the Roof, Guys & Dolls, My Fair Lady, The Music Man, Carousel, Phantom of the Opera

Canada:
The Magic Flute, The Sound of Music, The Phantom Returns with 'Phantom' legend Sir Peter Karrie, Opera with a Twist national tour, soloist with symphony orchestras across Canada

Follow: @thesaucysoprano

Tainui
Kuru
Tenor
---
International:
Cats, Edges, H.M.S Pinafore, Grease, Saturday Night Fever, Rat Pack, The Dancing Years, Iconic Kiwis, Phantom to Les Mis, Diva's Through the Decades, Modern Maori Quartet

Canada:
Not A Day Goes By, Relive the Music,

Follow: @tai_kuru_
Adam
Fisher
Baritone
---
International:
Young Caesar, America's Wonders, La Belle Helene, The Rake's Progress, Il Barbiere Di Siviglia

Canada:
Les Misérables, Joseph's Dreamcoat, Jesus Christ Superstar, La Boheme, Candide, Oksana G, Die Fledermaus, South Pacific, Midsummer Night's Dream (Britten), Merry Widow, Ours.

Follow: @adamfishermusic
Musical Director
---
International:
One of the original Canadian Tenors, and Romanza Tenors

Canada:
Marry Me a Little, Lost Operas of Mozart, Stickboy, Don Carlos, Tosca, Dragging Piaf, Masterclass, and soloist with orchestras across the country.
Vocal Coach with Disney & Netflix.

Follow: @vocalcoachcanada

Band Leader/Keyboard/
Assistant Tour Coordinator
---
International:
The McCartney Years

Canada:
Into the Woods, Rent, Seussical, The Who's Tommy, Xanadu, Spring Awakening, The Apple Tree.

Follow: @vanbermusic


Angus
Kellett
Keyboard

Sept 23, 26 - Oct 14
---
As Keyboardist:
Wicked, The Book of Mormon, Les Misérables, The Sound of Music, West Side Story, Annie, Fiddler on the Roof, The Wizard of Oz, Beautiful: The Carole King Musical, Mary Poppins, Mamma Mia!, Matilda, Beauty and the Beast, Nixon in China, Turandot, Tosca, Die Zauberflöte

As Music Director:
La bohème, Carmen, L'elisir d'amore, Madama Butterfly, Il barbiere di Siviglia, Pagliacci, Gianni Schicchi, Elektra, City of Angels, It's a Wonderful Life, Into the Woods, Songs for a New World
Arielle
Ballance
Keyboard

Sept 24 & 27, Oct 17 - 25
---