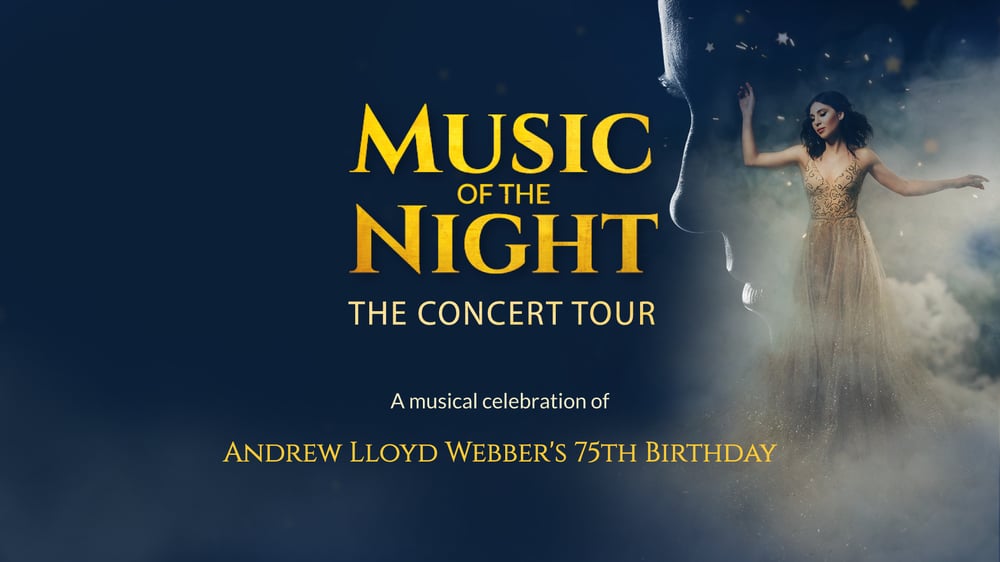 Celebrating
Andrew Lloyd Webber's
75th Birthday
---

This concert celebration of
Andrew Lloyd Webber's 75th Birthday
and his acclaim as the most successful musical theatre composer of all time will feature his most iconic theatrical music!

Including selections from:
Phantom of the Opera, Evita, Cats, Jesus Christ Superstar, Sunset Blvd, and more!

With a fully professional cast, many of whom have performed throughout Canada, London's West End, and Australia, we are sure this parade of musical offerings will overwhelm the musical senses.

"I love this music but didn't know much of what to expect from a whole concert of it. I was blown away. The whole show was a spectacle that brought new life into all of these songs by a cast of world class singers. Never a single dull moment and we didn't want it to end. Thanks for elevating our community with your music." Clara P. from Nanaimo

"The show was fantastic! If you are seeing it in another city, you are in for a real treat when you see it. The talent is completely fabulous! The whole cast is so talented bringing this music to life." Anne F from Victoria
"You certainly did take Nanaimo by storm! What a great show and ohhhh your voices - so beautiful! It was a magical afternoon."
Rita B. from Nanaimo
"Thank you so much for a very enjoyable afternoon. Although we didn't know all of the music, we knew a whole lot of it. The only complaint I have, is that it ended way to soon. We would have gladly sat for a much longer show given how wonderfully talented everyone was. Amazing job!! Thank you, once again!!" Ron & Randy Pruden, from Abbotsford
"I was at the Cultural Centre in Chilliwack last night. I LOVED the show." Jill Robertson, from Chilliwack
"Saw this concert in Abbotsford on Sunday....it was amazing ! All the artists were so great ..the lighting effects were super and ..of course...the music ! It was well paced and would have loved it to go on for another 2 hours. As we're older and don't drive into Vancouver any more, it's great to have artists come to us. And didn't realize we had such very talented singers in our area (including the Island)! Thank you again for a wonderful afternoon." Lee Hopwood from Abbotsford

Artistic Team:
(subject to change)
Creative Director & Producer: Alan Corbishley
Music Director: Frederik Robert
Lighting Design: John Webber

Band:
(subject to change)
Keyboards: Evan Berndt & Carol Colpitts
Bass/Guitars: Cole Friesen
Drums: Dean McKey

This is a concert production and therefore is not a narrative based
theatrical production.

---
The Cast
Meet the 2023 Southern Ontario Cast.
Cast is subject to change.
Amy Gartner
Mezzo
---
International:
Various productions on
Royal Caribbean Cruise Lines

Canada:
Do It Anyways, Side By Side By Sondheim, Merrily We Roll Along, Maud, Crunchy, Draining the Swamp, Come Along and Listen, The Who's Tommy, Hair.

As music director:
Once on This Island, Pageant

Follow: @amygermainegartner
Soprano
---
NY/USA:
Juilliard School graduate, Marriage of Figaro, The Elixir of Love, Cosi Fan Tutte, Showboat, Candide, Fiddler on the Roof, Guys & Dolls, My Fair Lady, The Music Man, Carousel, Phantom of the Opera

Canada:
The Magic Flute, The Sound of Music, The Phantom Returns with 'Phantom' legend Sir Peter Karrie, Opera with a Twist national tour, soloist with symphony orchestras across Canada

Follow: @thesaucysoprano

Tainui Kuru
Tenor
---
International:
Cats, Edges, H.M.S Pinafore, Grease, Saturday Night Fever, Rat Pack, The Dancing Years, Iconic Kiwis, Phantom to Les Mis, Diva's Through the Decades, Modern Maori Quartet

Canada:
Not A Day Goes By, Relive the Music,

Follow: @tai_kuru_
Baritone
---
International:
Another Brick in the Wall, Pagliacci, Carmen

Canada:
Twenty-Seven, Romeo & Juliet,
Tosca, The Birds, Il Trovatore


Follow: @nkeoughan
Musical Director
---
International:
One of the original Canadian Tenors, and Romanza Tenors

Canada:
Marry Me a Little, Lost Operas of Mozart, Stickboy, Don Carlos, Tosca, Dragging Piaf, Masterclass, and soloist with orchestras across the country.
Vocal Coach with Disney & Netflix.
Follow: @vocalcoachcanada

Band Leader/Keyboard/
Tour Coordinator
---
International:
The McCartney Years

Canada:
Into the Woods, Rent, Seussical, The Who's Tommy, Xanadu, Spring Awakening, The Apple Tree.

Follow: @vanbermusic